The principal report file generated by PipeLay is the analysis report file (analysis.prp). This contains a summary of the user inputs, and also contains all the results generated by the automatic postprocessing and any custom postprocessing that may have been requested for a particular analysis stage.
The report file is in rich-text format and contains embedded tables and graphs. Similar to the tabular output file, the top section of the file contains general information on the PipeLay project. The next section presents the Static Solution Summary data described above for the tabular output file, this time in rich-text format. Following the solution summary section, specific results from the analysis are presented in plot form. Postprocessing output for the abandonment example is presented in 'Examination of Results'.
Note that these graphs are produced in 'report-ready' format – you can simply copy and paste the graphs from the analysis report file into other documents. A sample graph generated for the abandonment analysis is shown in the figure below.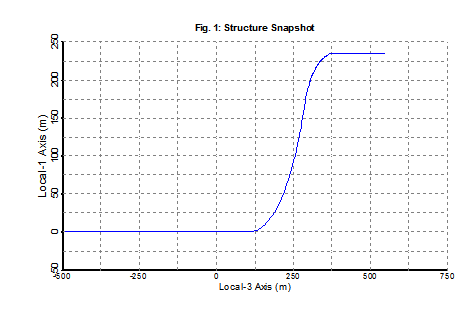 Sample Graph