•Improved Analysis Run Times – Benchmarking and profiling of dynamic analysis runs has identified a number of software code optimisations that have in turn significantly reduced run time compared to older versions. The level of reduction is dependent on the contact option being used and also to a lesser extent on the model size. As per the figure below, which is based on an S-lay in-line structure scenario, reductions for the non-pivoting bed contact option can be on the order of 40%-50%.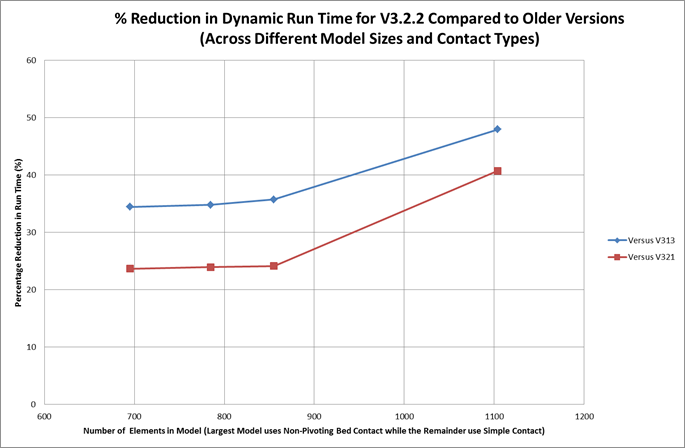 •Integration with New WebHelp Resource – The new PipeLay WebHelp resource has recently being launched, see link below, which offers a single integrated repository for all documentation on PipeLay. It combines and replaces all the content from the old User, Reference, Examples and Best Practice Manuals. Through a better layout and more cross linking of content, the WebHelp provides an easier and quicker means for users to get access to the information they need. We see this new resource as a strategic milestone for the product as it will allow us to actively update the PipeLay documentation between product releases as well as facilitating an even better support service for our customers.
http://www.mcskenny.com/support/pipelay/
To ensure consistency with the actual software the WebHelp content has been incorporated within the Help function in PipeLay V3.2.2. The older V3.2.1 manuals are also still provided as part of the new installation, but these should not be needed given the fully integrated content within the Help function.
•General Post-processing Enhancements – The static solution summary in Tabular Output provides additional useful results such as Bottom Tension, Layback, and Maximum/Minimum Overbend/Sagbend Bending Moments.
New labels in the Pipe Location/Support columns of the Tabular Output identify additional important points along the pipeline including the Governing Sagbend Node, the Touchdown Point and the Overbend-Sagbend Transition.
The installation stage drop down list on the Results tab of the Analysis component now remembers the previously selected stage even after navigating the tab. This is helpful for large multi stage analyses where the results of one particular stage are of most interest.
•Fault Fixes – 5 minor faults and 1 trivial fault have been addressed in V3.2.2. These are outlined in the Status Report that accompanies the release email.