Installing PipeLay
To install either PipeLay 32 bit or 64 bit, perform the following steps:
1.Unzip the PipeLay download on to your hard drive. In PipeLay Version 3.4 there are two separate installation directories available for the 32 and the 64 bit versions. Select either the PipeLay V3.4.1 CD Master (32 bit) or PipeLay V3.4.1 CD Master (64 bit) folder and launch the PipeLay Setup wizard by double clicking the InstallPipeLay.exe or InstallPipeLay.x64.exe executable.
2.On the Setup Wizard you will see six buttons on the right hand side:
a.Sentinel HASP Drivers
b.Microsoft Direct X
c.Visual C++ 2015 Redistributable
d.Intel Fortran Redistributable
e.Universal C Runtime
These buttons will either state Install or Installed depending on whether the applications in question are already present on your PC. Note that for the Installed case the button will be disabled thus preventing any unnecessary reinstallation.
3.You must click on each button labelled Install as the installation of the associated applications is compulsory.
4.Once all buttons state Installed you can click on Next to progress to the installation of the actual PipeLay program files.
5.If you are setting up a network license server then there is an additional Setup Wizard that you must run. This topic is described separately in 'Network Licensing'.
The PipeLay licence file, which is supplied on a separate USB drive, may be installed the first time you run the software. This is described in the next section.
PipeLay supports the Windows™ standard uninstallation procedure. If for any reason, you want to uninstall PipeLay at some point in the future, simply use the 'Add/Remove Programs' entry in the Windows™ Control Panel.
Running PipeLay
To run PipeLay, click on the Windows Start menu and choose:
Programs → Wood Group → PipeLay
The first time that PipeLay starts, it reports that it does not have a licence file as shown below.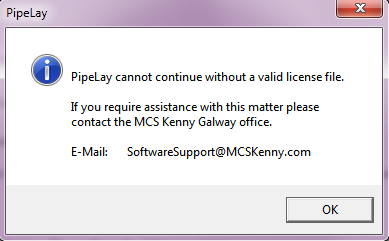 To install the licence file, perform the following steps:
1.Click on the OK button in the window shown above.
2.Save the MCSCode file to your hard drive, normally provided by e-mail.
3.Navigate to the PipeLay bin folder and paste in the MCScode file.
These steps do not have to be repeated, but you should save your e-mail in case you need to reinstall PipeLay at some point in the future.